All the Things You Are ist ein Song aus dem bekannten Broadway-Musical Very Warm for May, komponiert von Jerome David Kern. Der Text stammt von Oscar Hammerstein aus dem Jahr 1939.
All the Things you Are ist ein sehr beliebter Jazz-Standard, den z.B. Coleman Hawkins sehr häufig eingespielt hat, zunächst 1944, aber auch in Begegnungen mit Bud Powell (1960) und mit Sonny Rollins (1963).
Die Komposition gehörte dann zum klassischen Repertoire des Bebop und wurde außer den genannten von vielen Musikern des Modern Jazz wie Chet Baker, Clifford Brown, Dave Brubeck (1953), Bill Evans, Erroll Garner, Stan Getz, Johnny Griffin, Lionel Hampton, Hans Koller (1953), Lee Konitz, Thelonious Monk, Walter Norris (1998), Joe Pass, Oscar Peterson, Alexander von Schlippenbach, Bud Shank, Lennie Tristano und Ben Webster eingespielt.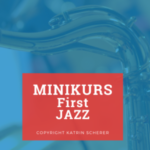 Bevor Du mit den Standards beginnst:

Kennst Du schon meinen gratis Minikurs First JAZZ?
In diesem 5-teiligen Minikurs lernst Du, nach Gehör zu spielen, machst die ersten Schritte beim Improvisieren und lernst Deinen 1. Standard.
Das kursbegleitende E-Book gibt es in verschiedenen Versionen, für Bb und Eb Instrumente
Höre die Aufnahmen an und versuche, die Melodie mitzuspielen.
Album: "Flat Out" (1988)
John Scofield – guitar
Anthony Cox – bass
Terry Lynne Carrington – drums
 "Very Warm For May"
Barbra Steisand – Simply Streisand
℗ (p) Originally released 1967 SONY BMG MUSIC ENTERTAINMENT INC.
Chet Baker, Album "Out of Nowhere" (Live, 1982)
SONNY ROLLINS & COMPANY WITH COLEMAN HAWKINS
July 6, 1963; Newport Jazz Festival, Newport, RI
Sonny Rollins and Coleman Hawkins – tenor saxophone
Paul Bley – piano
Henry Grimes – double bass
Roy McCurdy – drums