"If i should lose you" wurde von Ralph Rainger komponiert, der Text dazu stammt von Leo Robin. Der Song fand auch Verwendung in dem Film " Rose of the Rancho" (1936). Einspielungen von Aretha Franklin, Booker Little, Keith Jarrett und Frank Sinatra machten den Song zu einem populären Jazzstandard.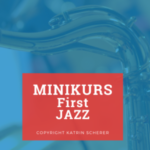 Bevor Du mit den Standards beginnst:

Kennst Du schon meinen gratis Minikurs First JAZZ?
In diesem 5-teiligen Minikurs lernst Du, nach Gehör zu spielen, machst die ersten Schritte beim Improvisieren und lernst Deinen 1. Standard.
Das kursbegleitende E-Book gibt es in verschiedenen Versionen, für Bb und Eb Instrumente
Höre die Aufnahmen an und versuche, die Melodie mitzuspielen.
Aretha Franklin – Vocal
Ernie Hayes – Piano
George Duvivier – Bass
Gary Chester – Drums
Robert Mersey – Orchestra, Arrangement, Conductor
Aretha Franklin "Unforgettable- A Tribute to Dinah Washington", 1964, Sony Records
Carmen McRae – Vocal
George Shearing – Piano
Carmen McRae "Ballad Essentials", 1999, Concord Jazz- Records
Hank Mobley – Tenor Saxophone
Wynton Kelly – Piano
Paul Chambers – Bass
Art Blakey – Drums
Hank Mobley "Soul Station", 1960, Blue Note Records
Keith Jarrett – Piano
Gary Peacock – Bass
Jack DeJohnette – Drums
Live in Tokyo, 1985
Chet Baker – Trumpet
Paul Bley – Piano
Chet Baker/ Paul Bley "Diane", 1986, Steeple Chase- Records